One of the very first blogs I subscribed to was Rhoda from
Southern Hospitality
. You can tell she just likes to have fun and enjoys life. She comes up with the best design ideas and is a big time thrifty shopper! (my kind of gal) Here is her wall with a bunch of collected thrifty items!
This picture below from Pottery Barn is lots of fun with the black and white on top of a light robins egg blue wall. Also the three dimensional bird nest adds just a spark of texture to the wall. Love it!
For those looking at the pictures saying, I could never figure out how to put all my stuff together and make it look "right" Sarah from
Thrifty Décor Chick
(also one of my first blog subscriptions!) did a great post on
How to Decorate Your mantle
. It will really help with understanding how to accomplish that "designer" look when you add
framed prints
to your wall or mantle.
Personally I ADORE doing a
plate collage
on my walls. It is visually entertaining and can really be quite cheap! Ross and other discount home décor stores sell gorgeous plates for $2-$4 each.
Green Door Design
actually cut out a silhouette of each item she had to place on her wall
on paper
first, then she tacked them up on the wall and arranged them before she nailed anything up. VERY SMART!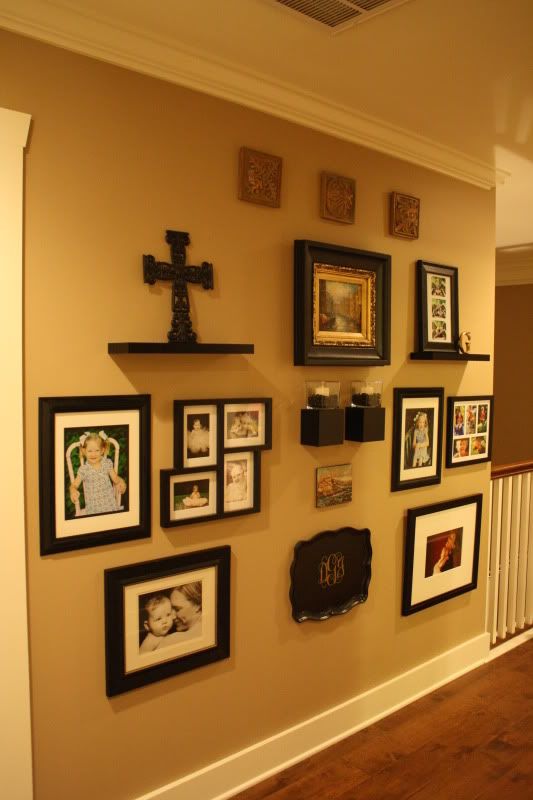 Hope this has inspired your Creative Juices! Mine are inspired and I wrote the post! I need to go to the thrift store again