I thought about apologizing that this wasn't a crafty, cool DIY post, but what I realized is that the reason I enjoy blogging is because I write about things that
make me happy
. Usually it's fun DIY stuff but sometimes it's my kids and life – hope you still enjoy it!
My daughter is almost four and it is a little embarrassing to tell you that I still dress her. To be honest, I ADORE dressing her anyways. To her defense, her shoes and her socks are actually up really high in a cute box on her armoire so I haven't set her up for a lot of success at dressing herself anyway.
But EARLY one morning I hear a bunch of ruckus and then a child coming down the stairs. At 6:45am my little bug opens our door and yells "TA DA!!!" with her arms all stretched out to the sky mind you
She came in dressed exactly like this
complete with her sunglasses and hat
. I'm was a little scared how she managed to get her socks and shoes but I was QUITE IMPRESSED!!! I guess she is definitely capable and old enough to get herself dressed from now on. (I'll be sure and move her stuff at a comfortable kid level!)
Hope that made you smile!
Linking this up to Fess Up Friday –
Kissing the Joy as it Flies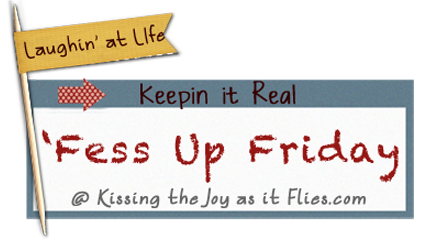 ~ Selina (aka CreativeJuicesDecor)