There are a few things I have run across while
building my house
that I have fallen in love with. One of those things was the address plaque I bought from
T Michael Studios.
Along with address plaques he makes TONS of other stuff!!!!!
Let me tell you – I couldn't BELIEVE his price for his handcrafted piece of history and art! Most of the slate he uses has been reclaimed from Historical buildings and barns throughout the heartland. Every piece that leaves his studio has a history of its own. Once he receive it, he sculpt it and mold it into a new form.
I looked long and hard for a unique well made address plaque and didn't find anything close to this guys
quality and price.
Anyway, I liked it so much that I contacted him and said "I'd love to promote you and ummmm.....would you be willing to do a giveaway for my readers to your shop?!" He said he would!! Let's just say it's a thank you to all my blog readers for helping me win my $250.00 American Clay contest
I ADORE the giveaway he is going to do! I know his style falls right in line with most my readers.
Set of 4x4 Historal dated coasters
– Retail is 29.99 (plus shipping)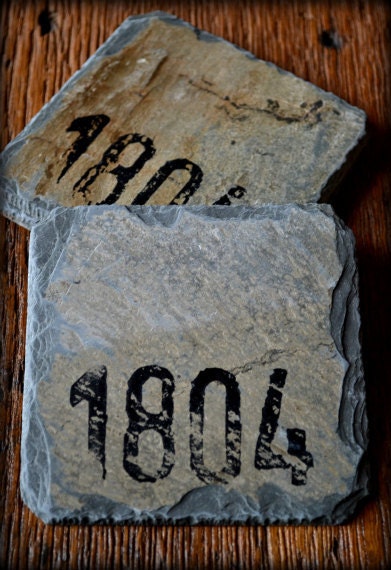 This slate came from a 1804 Trading Post in Ohio
. It was used as roofing shingles and was taken off when the Post was torn down. This Trading Post was used for trade of Goods, Fur, Supplies, & Materials.
( Includes Historical Data Card) for additional historical information and pictures, please go to :
www.tmichaelstudio.com/HISTORY1804.html
)
You guys, he has SO MANY crazy amazing gifts you could give this holiday. Just so you know, I'm not getting compensated or paid to say any of this – I just really love his stuff and would love to help him out in his business. Here is the
gift selection
from his site, and here are a few pictures.
Coasters!
Slate bread board – I WANT THIS!!
Garden Plaques, bird houses, pet plaques, no soliciting plaques EVERYTHING!
Enough said – right???
Check out his site
T.Michael Studio
and……..
1.) Leave a comment telling me your favorite thing on the site. (ONE entry) or "Like" his Facebook Page.
2.) And like always, for your second entry, FOLLOW ME! (another entry)
or if you do already, just let me know and tell me you really like my blog – JUST JOKING!
OK friend, that's it. I'll end this
Wednesday the 14th at noon PST
so that I can send him the winners address ASAP for shipping out. Please either
leave your email on the comment
or be sure it is easy for me to find once clicking your name. If I can not easily find your email, I will have to choose another winner. Shipping to US only (unless you will pay for international shipping yourself)
For those of you wanting to know his Christmas shipping schdule he sent me this:
Personalized or Custom orders :
Dec. 14 ( Last day to order) / ( Dec 7 ) CANADA Orders
Orders placed after these dates will not be guaranteed for Holiday delivery.
( NO RUSH FEES accepted. )
REGULAR NON-Personalized Orders ie: SLATE Coasters, Ornaments, Bread
plates. Dec 19th (Last day to order )