Hi Everyone!
I've been thinking about what I could write that would really help give you ideas for your OWN home decor. I realized that having a nice console table vignette, either in your entry or living room can REALLY add character to your home and is an important investment piece.
So....I decided to post and talk about some
different entry styles
and give you some ideas. You can also check out this
furniture
website which is one of the most comprehensive furniture website around.
This is shabby chic/farmhouse vignette using old window panes and collected white pottery. This look is quite simple, but see how sets off the feel of this person's home?
Characteristics:
weathered wood
chipped rough paint
burlap pillows
wicker baskets
simple not too cluttered.
Farmhouse Porch
In keeping with the shabby chic/farmhouse theme, don't you just love this old weathered bench used as a focal point for the entry!

Once again you are seeing:
Old woods
Wicker
Burlap
Painted furniture
Characteristics:
Iron
Any natural elements (clay walls, rock, iron etc)
Greenery (especially topiary plants)
rustic wood (usually not painted) with imperfections or even rough old wood.
And during
Christmas
I dressed it up a little!
I can't forget using horses as part of a Tuscan theme!
Notice the black iron wall sconces
Old weathered wood
Greenery in weathered pots
wicker and leather (natural elements)
I LOVE how this person disguised their flat screen TV with a bunch of cool hanging photos scattered around it. This is a great console table vignette - I would say this style could be titled
eclectic
. Eclectic can be a catch - all style that borrows from several other design styles to evoke a sense of imagination with unexpected contrasts.
Characteristics:
mixed modern with traditional
Anything goes!
Old wood, glass, modern frames with some old weathered signs.
This is a pretty traditional yet eclectic look too! Both of the pictures add fun CLOCKS!
More IDEAS:
One idea that I see used a LOT with console table vignettes is using symmetrical picture frames. I love this idea, it makes a statement and is easy to use in home decor.
Even if you had a small little table, you could add some symmetrical frames to add a touch of sophistication.
Another really easy way to add character to your console table vignette is to add wicker baskets! You can collect them whenever you see a good deal and VOILA, look at what it can do to make a statement. (not to mention the great extra storage they provide!)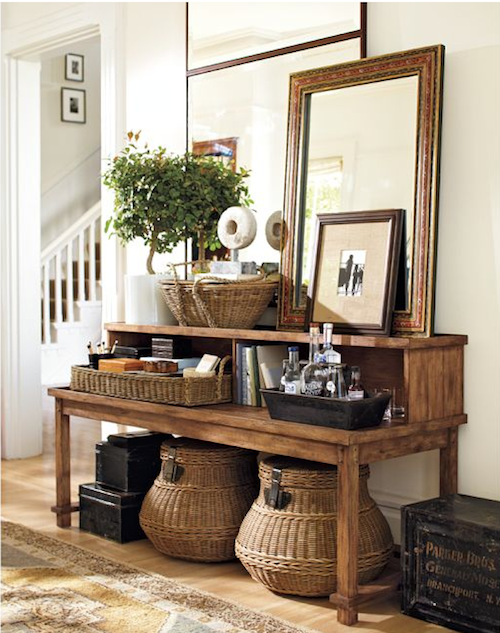 Baskets under the table and decorative bowls on the wall!
I hope this post has given you some ideas on how to set up your OWN console table vignette? It's always fun to try to dissect a photo and figure out what you like (or don't like) about it and begin to narrow down what your own style in home decor is. If you enjoy the
Rustic Tuscan decor style swing by my home tour posts
!
For my wonderful blog readers I just wrote about the
TOP 5 DESIGN SECRETS
that I feel everyone needs to know - come check it out.
If you guys ever have any decor/design questions.....feel free to ask me and maybe I'll do a post on it for you! Don't miss out on any other posts - I'd love to have you sign up to receive my once a week home decor inspiration :-)