Hi Friends!
How are those New Year Goals coming along :-)
Maybe this year will be my year of organization.....OR at least my attempt at organization!
This makes me smile :-)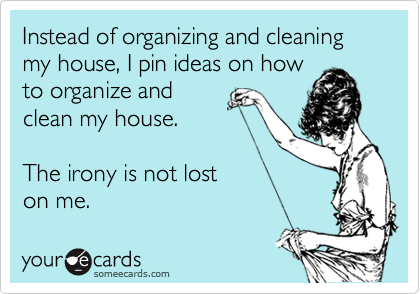 I guess my
Tried and True posts
are becoming a series! Out of the million
home decor solutions
that have been pinned, there are always a few that are AWESOME and then there are "THE OTHERS" that leave us scratching our heads thinking - HUH??!!??
The latest one I tried (and LOVED) was the silverware organizer turned JUNK drawer organizer. VOILA - all organized - yea!
This is the one I saw off Pinterest......she used it for their bathroom. You can't really see, but each toothbrush spot is labeled with the child's name. I need to do this!
(This was such a money saving post for me! Worked perfect!)
All you need is:
Felt
Paperclips
Glue gun
All you need is:
Sharpie Pen
Wax paper
Tape
Believe me, I have a LOT of laughable pinterest FAILURES that did not work (um, at ALL) that I could write another full post on. I guess I'll have to save it for one of my Fess Up Friday posts - Pinterest Fails! ha!
What idea have YOU used off Pinterest and loved?