I know not every one out there is into the arts and music but for me, music is a huge part of my life.
On display is one of my old violins, unfortunately, when I was 16 I drove away while the violin and case was still on the top of my car and broke it to pieces.....yep, not a great teenage day when you do something like that!
Growing up, I had 3 siblings. We each started learning a musical instrument at the age of three.
Yes, that is me :-) Maybe I was 2 when I started playing?
Some of the mothers out there that have kids involved in learning a musical instrument know it's not really the THREE year old that practices and learns an instrument - it's the mother. God bless all the mothers out there that patiently go through the 20 minutes of practicing a day!
(and to my own mother THANK YOU!)
Anyway, our family formed a string quartet,
2 violins
1 viola (me!)
and a cello.
So it's not a surprise when I tell you my heart goes flutter when I see musical instruments being used as home decor. Honestly, garage sales are great for finding a steal of a deal on old instruments - keep your eyes on the look out!
Let's look at some ideas used around Blogland!
I love the way she brought your eye around the table using a large string bass. It sure makes a statement.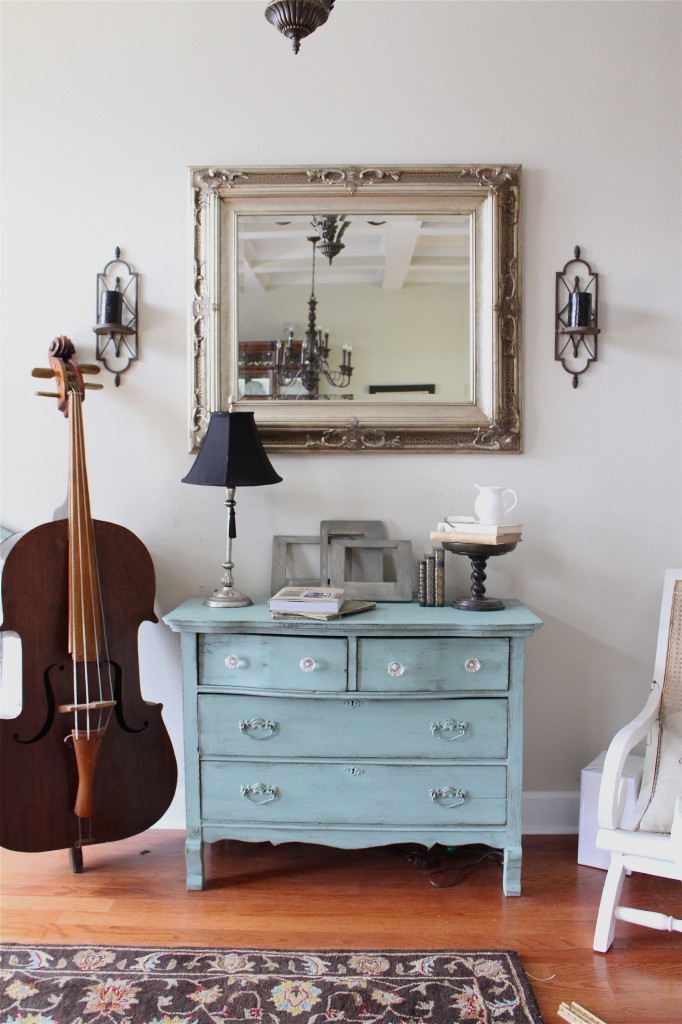 Placing old horn instruments in a bookshelf or on a console table really adds interest. This vintage trumpet has such lovely lines - don't you think it's a work of art?
I can't forget using the piano as a beautiful home decor statement!! Two of my children play the piano.
I think decorating your home with beautiful old instruments can be magical. :-)
What do you think - do you have any musical home decor?